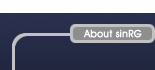 My name is Steve Brattin, I am the owner and designer of sinRG.com. I attended Al Collins School of Graphic Design from 1995 to 1997 and then went back for special certification in web and interactive design in 1998. I was the lead web site designer in 3 different companies spanning from 1998-2001.

SinRG Design is my personal web site I have had since I started web design, and have kept even after the crash of the dot com businesses. I have been out of the design field for some time now using my design talent in a few new and unexpected ways.

Now coming back to my site I have noticed many of the sites I designed are now updated or gone, I guess nothing lasts forever. My goal now that sinRG has been updated is to rebuild my portfolio page with new examples taken from work done for happy clients.

Stay tuned for more new stuff.


Copyright © 2001-2010 sinRG Design, all rights reserved.
Graphics on this site are not to be used on any other site